Sue LeBeau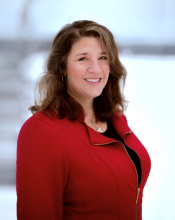 Sue LeBeau is a MScN and MBA-prepared northern Franco-Ontarian leader, nurse and educator. Leadership development is her passion. Her certifications include Lean Black Belt, Sexual Assault Nurse Examiner, organizational development and creative problem-solving.
Sue is the chief executive officer (CEO) of Red Lake Margaret Cochenour Memorial Hospital, in remote northwestern Ontario. She has supported regional health-care planning and Home and Community Care as the Northeast LHIN Director of Quality and Risk. For 12 years, she was a professor in programs including nursing, nurse practitioner and health-care leadership in post- baccalaureate and college settings. She has enjoyed nursing in various roles: public health at community health and sexual assault/domestic violence treatment centres, hospital leadership and independent NP practice.
Sue's leadership philosophy is that people shine when treated with care, respect and recognition. She is known to enthusiastically support her teams by encouraging them, providing tools and opportunities to grow and succeed, making it safe to fail and celebrating their successes.
Sue values volunteerism and see it as a leader's responsibility. She has contributed as a director on multiple boards, including that of the Northern Ontario School of Medicine (NOSM), North Bay Nurse Practitioner-Led Clinic and Victim Services. She is also a long-time executive member of Canadian College of Health Leaders' (CCHL) local chapters and contributor to its national ethics committee. She is also an executive member of Nipissing and Kenora RNAO chapters, and belongs to the Red Lake Lions Club.
Sue enjoys camping, hiking, and the outdoors with my spouse, our two teen daughters, and our dalmatian.