Maria Rugg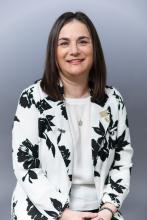 Maria Rugg has been a registered nurse for 30-plus years, spending the first half of her career in pediatric nursing in neonatal care, then working as an acute care nurse practitioner with extensive experience in acute/chronic care focusing on palliative care, pain management, bereavement care and person/family experience. She has also spent time in public health as part of a visiting postpartum program. Over the last 13 years of her career, she has focused on palliative, cancer care and psychosocial care. Her experiences within these clinical settings have included primary care, acute care, community care, as well as hospice care. Maria has said that her vocation has crossed the life span and age span, with her youngest patient being 23 weeks and her eldest patient 110.
Maria's education is a nursing undergraduate honours degree at the University of Windsor and a master's degree in nursing as a nurse practitioner/advance practice nurse from the University of Toronto. She has Canadian Nursing Association national certification in palliative care, and was 18 years certified in 2021. She also achieved a Certified Health Executive designation from the Canadian College of Health Leaders in 2021.
Maria's lifelong vocational passion is working in areas of patient experience, including palliative care and patient related outcomes as they reflect the diversity of individuals and populations. My work facilitates change to help individuals and their families define health and overall well-being. She feels fortunate to have been afforded these opportunities in all areas she has worked and volunteered in, including management, clinical leadership, education, continuous quality improvement and research.