Kathleen Pikaart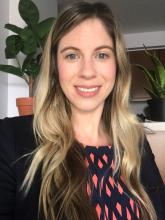 Kathleen is a registered nurse with a diverse health-care background and experience. Kathleen graduated from the nursing program at the University of Ontario Institute of Technology (UOIT) in 2017. Kathleen also completed a degree in health sciences and has worked various roles in primary care, outreach hospice palliative care services and community pharmacy. Kathleen currently works as a nurse in the acute care and community sectors, and sees the challenges from our fragmented and strained health-care system, but also opportunities for transformational improvements.
Kathleen has been an active and dedicated member of the RNAO Durham Northumberland chapter for six years. She is currently serving as chapter president, and previously served as policy and political action executive network officer (ENO) and student liaison. She has led collaborative events with other chapters and interest groups, and promotes RNAO membership and involvement to colleagues and nursing students. Kathleen has also chaired the provincial resolutions committee, and made presentations during several assembly meetings.
Kathleen has a strong passion for wanting to influence change, which has translated into an interest in advocacy, health policy and political engagement. She has met with many politicians over the years to discuss issues impacting nursing, health care, and social determinants of health. Kathleen is also drawn to promoting collaborative leadership and recognizing the value and contribution that each nurse (or nursing student) brings. Kathleen is eager to continue progressive involvement with RNAO and would be honoured to serve as Region 8 board representative.