Claudette Holloway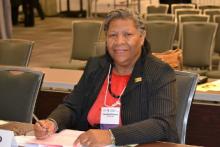 Education/Experience
I am currently practising nursing as a Manager at Toronto Public Health, Child Health & Development directorate.  I also have several years of diverse nursing experiences in both management and hands-on care in Ontario. For example, my Ontario nursing experience includes 10 years in long-term care, over five years in maternal infant care, and over 20 years in public health. I hold a BScN, a Master's Degree in Nursing, and I recently achieved a Doctorate in Health Administration (DHA).
My RNAO experience includes:
 Past executive member of the Maternal Infant Interest group
 Voting delegate for Region 7  
 Team lead Queen's Park Day 
 Region 7 Regional Rep and RNAO Board member two terms
 Voting member for CNA Annual meetings, 2011, 2014
Philosophy
I believe in the importance of RNAO's work providing a strong voice for nursing. As we continue to combine nursing knowledge, advocacy, and research, we promote excellence in health care for Ontarians and beyond. At this time we have four generations in many health-care workplaces. With this present wealth of diversity in human resources and knowledge, nurses will triumph against the challenges that face our health-care system. By working together we can effectively speak out for health and speak out for nursing. I believe listening actively to the current and potential members   and seeking innovative ideas from our RNAO membership can help generate a force that will make a difference for the nursing profession and health care in Ontario.