Janet Hunt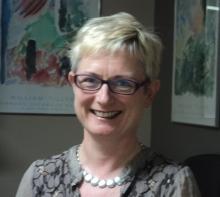 Janet is an active member of RNAO and has held the position of board member  for Region 2 for the last four years. She has been active as political action executive network officer and past president of the Middlesex Elgin (M-E) chapter of RNAO.  Janet believes in the value of collaborative working relationships and over the past four years has worked with chapter leaders to build executives, create unions, and encourage collaboration and partnerships within and between chapters, as well as with other interest groups and health-care organizations.
Janet has a passion for nursing and believes that nurses can and do play a key role in advocating for health care and the health of all Ontarians.
After completing her basic nursing education in Ireland, Janet immigrated to Canada and focused on clinical practice in critical care and emergency departments. Janet is committed to life-long learning and has achieved two Canadian Nurses Association certifications in critical care and cardiovascular nursing. She completed her Post RN Baccalaureate degree in 2005 and her Master's of Science in nursing in 2008, both from Western University, London. For the past six years, Janet has been working as a clinical nurse specialist in St Joseph's Health Care, London, Parkwood Hospital. Janet mentors nurses and the interprofessional care team in the complex care program. She also holds an adjunct professor position at Western University, London.