Alison Kern
Credentials:
RN, MScN, CCHN(C), GDip HSPR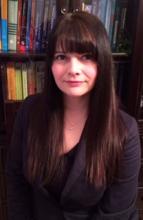 Allison Kern is a strong advocate for nursing practice and nursing education. She has been a member of RNAO since 2005 and has held the position of nursing practice leader at Kingston, Frontenac, and Lennox and Addington (KFL&A) Public Health since July 2012. In this role, she supports the work of the Chief Nursing Officer, chairs the Professional Practice Advisory Committee and the Nursing Practice Council, and activity participates in the development of agency policy. Prior to this, she worked with the Family Health Team as a Healthy Babies Healthy Children nurse and a liaison between Family and Children's Services and Public Health. 
Her educational background in nursing includes the completion of a Bachelors of Science in Nursing in 2009 and a Master's of Science in Nursing, Thesis Stream, in 2012; both from Laurentian University. Allison holds a graduate diploma in Health Service and Policy Research from the Canadian Health Services Research Foundation in collaboration with six universities. In 2013, she obtained Certification in Community Health Nursing through the Canadian Nurses Association. Her first publication appeared in the International Journal of Nursing Education and Practice in 2014. Allison begin PhD study in September of 2015 at Queen's University in Kingston. Since that time, she has completed the required PhD course work and has been successful in comprehensive exams. Alongside her academic endeavours, Allison continues to work full-time as a nursing practice leader at KFL&A Public Health and has served as the president of the Kingston Chapter RNAO since 2014.