Lhamo Dolkar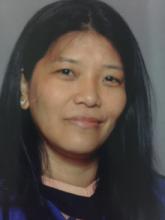 Education /Experience
St. Michael's Hospital July 2015 – present
BScN – Ryerson University, Toronto, ON
RNAO Experience includes:
Region 7 Executive Committee as Political ENO
Political ENO –MCNIG 2015
RNAO Board of Directors Placement – 02/ 2015
Participated in QPOR & Queens Park Day 2015, 2016
ADHOC Member – PEDNIG 2013 – 2014
Philosophy
I believe that the work of RNAO is important because it provides a platform for RNs, NPs, and students to engage in building and strengthening our universal health-care system and advocating for the nurses who are the backbone of the health-care system. I also believe that nurses have strong role to play in advocating for vulnerable populations by creating awareness and empowering individuals and communities to bring about change for health and health care. I have experience in speaking out on many issues that affect healthy public policies by interacting with politicians, signing action alerts, and writing to decision-makers to support healthy public policy.
By working at the board level, I believe that I can utilize my experience and knowledge to contribute to the strong leadership that RNAO is well known for. I will work along with our members as we seek to influence the decision-making of the government to advance strength and maintain our universal health-care system and advocate for our profession. I look forward to serving as your Region 7 board representative and I will continue to speak out for nursing, health and on the determinants of health.