Larissa Gadsby
Credentials:
RN (EC), BScN, MScN, NP-Paediatrics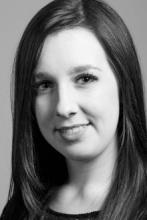 Larissa has worked as a paediatric nurse for the past seven years. Her experience ranges from general paediatrics, oncology/hematology, and neurology. She completed her undergraduate and graduate degrees at McMaster University, as well as a Post Masters Nurse Practitioner Diploma from the University of Toronto. She is currently practising as a Nurse Practitioner in paediatric neurology at McMaster Children's Hospital.
Through caring for children with chronic illness, she has developed strong advocacy skills and a rich understanding of the various gaps and barriers in services for many children and their families.
Since attending an RNAO Board of Directors student placement in 2010, she has been interested in influencing policy and speaking out for nursing and the health of Ontarians. She has been active in the Paediatric Nurses Interest Group for the past four years, serving two years as the Interest Group Chair. During this time she was active in reestablishing a strong executive, meeting with local MPPs, and engaging with various media outlets online and in print. "Being a Registered Nurse offers each of us endless opportunities to make a positive impact in the lives of Ontarians. Whether it be through direct patient care or advocating for change at the systems level, we all have an integral role in speaking out for nursing and speaking out for health," says Gadsby.