Jennifer Flood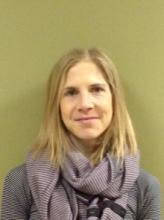 Jennifer Flood is seeking re-election on the RNAO Board of Directors as Representative for Region 11, representing Sudbury & District, Nipissing, Algoma, Kirkland Lake-Temiskaming, and Porcupine chapters.
Jennifer Flood is currently Acting Program Manager at Algoma Public Health for the Chronic Disease Prevention, Injury and Substance Misuse Prevention, Smoke Free Ontario, Youth Engagement and Genetics Programs.  Jennifer has been employed at Algoma Public Health since 2009, beginning her career as a Public Health Nurse.  She has practised in both rural and small urban sites and has experience in various public health programs.  Jennifer also works part time within the BScN program, Laurentian collaboration, as a faculty advisor for third and fourth year BScN students and a course professor.
Jennifer is passionate about healthy work environments, quality nursing education, and advocating the important role nurses maintain in the health-care system.  Her work in health promotion recognizes the impact that the social determinants of health have on our communities, and she strives to educate and advocate for health equity.
Jennifer graduated with a BScN in 2009 from Laurentian University (Sudbury) and completed  her MN from Charles Sturt University (Australia) in 2015. 
Jennifer's involvement in RNAO began as student in her undergraduate nursing program.  As an RN member, she was elected onto the RNAO Algoma Chapter executive as treasurer in 2011.  She maintained this position until 2014 at which time she was elected to the position of Policy and Political Action Officer.  Jennifer represented Region 11 on RNAO's Board of Directors from 2015-2017 and would be honoured to be re-elected, allowing her to continue to support and address members' local issues and as well broader issues facing the nursing profession.