Beatriz (Betsy) Jackson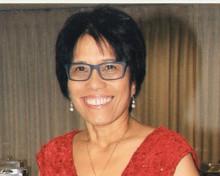 Beatriz has a Masters of Science in Nursing from D'Youville College in New York. She has national and international experience in Medical- Surgical, Oncology, Emergency and Coronary Care. Her previous leadership experience includes working as an Advanced Practice Nurse in Cardiology, a Project Manager and Acting Director of Nursing Education at Sunnybrook Health Sciences Centre.  Currently, she teaches in the Community and Health Studies, Practical Nursing, at Centennial College.
She has served as Executive Network Officer for Durham Northumberland Chapter as the Membership ENO from 2010-2012, the chapter president from 2012-2014 and a Region 8 Representative to the Board from 2014-2016. As chapter president, she supported and participated in the Take Your MPP to Work & Breakfast and Queen's Park on the Road annual events. She is a strong advocate and support for the students to attend the AGM, supported the UOIT/DC RNAO Interest Group Open House, the RNAO Chapter ENO Q & A Panel, and the ENO-Student Mentorship Program.
Her nursing philosophy is that every registered nurse is a leader, advocate, and change agent, who contributes to the physical, emotional and psychological well-being of patients and their families. She believes the Regional Representative for Region 8 is a leader, advocate, a change agent and an important link between the RNAO Board of Directors and the Region 8 ENO and members for involving, engaging, communicating and disseminating relevant and timely information that affects nursing and the broader community. It is with this affirmation that she is nominated for the second term.