Nisha Walibhai
Credentials:
RN, BScN, MHSc-Health Admin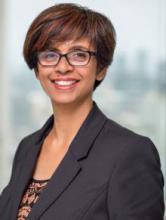 Nisha is  a nursing and health-care administrator with strategy, operational, and policy leadership experiences in community,  hospitals, and policy systems settings.  Nisha currently is a chapter president for Halton region and brings the passion, commitment, and leadership enthusiasm to care, connect, and engage with Ontario's RN community to sponsor one voice for Ontario RNs via RNAO.  Nisha believes in creating the mindset for abundance, respect, collaboration, and listening to advance professional political processes to advance care delivery and health transformation. She envisions RNs and other nursing peers making health happen by addressing the social determinants gaps to advance health for all Ontarians.
In health care, we are at an exciting time of disruptive changes, and Nisha wants RNs and other nursing providers to be at the forefront of these transformations such that the quality of care, and respectful treatment of RNs is not jeopardized.  Moreover, in addition to evidence-based clinical, and technological leadership, she advocates for enhancing the political skillset of RNs at all levels such that every RN has the personal political capacity for speaking for health and speaking for nursing.
Nisha lives in Burlington, dabbles with stand-up comedy, and is a proud mother of two teen daughters that are dance and drama enthusiasts.  In her work with RNAO Halton, Nisha partners with a high performing chapter executive team  catering to the needs of novice, mid-career, and mature members. She also brings to the table her experience in board governance in a local non-profit seniors home.