Dear Colleagues: Welcome to our Friday, July 3 report – now in the sixth month of COVID-19 in Ontario. Visit the COVID-19 Portal for the many resources RNAO offers on COVID-19. You can refer to earlier update reports here, including thematic pieces in my blog. RNAO media hits and releases on the pandemic can be found here. Daily Situational Reports from Ontario's MOH EOC can be found here. Feel free to share this report or these links with anyone interested – they are public.
Nurses celebrated diversity during Pride month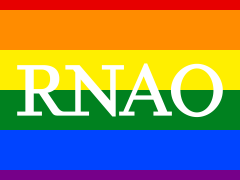 In honour of Pride month, RNAO and its interest group the Rainbow Nursing Interest Group (RNIG) continued to speak out against discrimination and social exclusion based on sexual orientation and gender identity. We remained committed to celebrating diversity, inclusivity and equality.
This year, due to COVID-19, the Toronto pride parade was virtual with an online portal that highlighted local collectives, artists, makers and performers. Similar to Toronto, York Region, London and other cities that hosted virtual events. To see what your city celebrated see 2SLGBTQI.
As part of Toronto's virtual pride parade on June 28, RNIG created a video wishing everyone a happy Pride month. Check RNIG's Facebook for updates.
RNAO and RNIG have been long-time advocates for the province's 2SLGBTQI+ communities and are committed to diversity and human rights. Please read RNIG's homepage on respecting sexual orientation and gender identity. A message from the Rainbow Nursing Interest Group (RNIG) is here.
---
Protecting healthcare workers
The following article was prepared in May on the occasion of Nursing Week but still remains relevant today. It was co-authored by Alex Harris (Manager, Professional Practice at Trillium Health Partners), Doris Grinspun (CEO, Registered Nurses' Association of Ontario), Mike Villeneuve (CEO, Canadian Nurses Association) and Judith Shamian (President Emerita, International Council of Nurses).
Rather than praise, let's protect our nurses
This month marked the 200th anniversary of the birth of Florence Nightingale and is being celebrated by the World Health Organization as the Year of the Nurse and the Midwife. A pioneering nurse, statistician, and social reformer, Nightingale has served as an exemplar for the impact that nurses make across the globe. It seems apt, then, that the spread of a global pandemic should coincide with efforts to recognize the valuable contributions of nursing to health worldwide.
Nurses have routinely answered the call during global health crises, acting as the first – and often only – point of care to the sick and vulnerable. They are the backbone of health systems everywhere, and nursing consistently ranks as the most trusted profession.
During the COVID-19 pandemic, much has been done to recognize nurses for their work. There has been an outpouring of support for them and for other healthcare professionals, with collective celebrations, donations and creative displays of appreciation abounding. Most recently, nurses' status as healthcare 'heroes' was commemorated by the artist, Banksy, in which a child opts to play with his nurse action figure instead of the usual cast of characters.
But while these efforts have been a welcomed source of support, nurses need protection more than praise.
Widespread shortages of personal protective equipment (PPE) have disproportionately affected those at points of care. Nurses and other healthcare providers are at the greatest risk of exposure to COVID-19, due to the frequency with which they're exposed to the disease, as well as the proximity and duration of interactions. Yet, despite this risk, they are repeatedly asked to ration or reuse their primary source of protection. Horror stories of nurses wearing makeshift gowns and using one mask per 12-hour shift have contributed to anxiety and fear around contracting the illness and spreading infection to patients, coworkers and family members.
Protecting nurses, however, is not simply about ensuring an adequate supply of gowns and masks; it is also about providing them with the resources to practice safely. The pandemic is shining a light on long-standing susceptibilities in the system related to inadequate nurse staffing and heavy workloads. This is especially true in chronically under-funded areas of the healthcare system, such as community and long-term care.
When we don't invest in the nursing workforce, patients suffer. Studies have found that an increase in nurses' workload, as well as lower proportions of professional nurses amongst hospital staff, are associated with higher odds of inpatient deaths. Most recently, the long-term care sector has served as a case study in this regard, wherein staffing levels and skill sets have not kept pace with the complexity of care. Prior to the 1980s, the bulk of patient care was provided by regulated nurses, including registered nurses, registered practical nurses, registered psychiatric nurses and nurse practitioners. Yet, despite a dramatic increase in complexity of patient care, up to 80-90% of care is now delivered by poorly-paid care aides and personal support workers who are left to do the best they can in challenging environments.
If we do not properly support and protect nurses now, the downstream implications on the broader healthcare environment will undoubtedly be dire, particularly as we prepare for the next wave(s) of the pandemic. Prior to COVID-19, nurses were already suffering from high rates of fatigue. A survey conducted by the CBC's Fifth Estate in 2018 found that almost 40 per cent of registered nurses who responded reported feeling a high degree of burnout. And with preliminary reports of increased stress and post traumatic stress disorder (PTSD) among healthcare providers, inaction now will only further exacerbate these disturbing trends.
Managing the spread of COVID-19 is a marathon, not a sprint. Nurses are run off their feet; cheering and free coffee is appreciated, but can only take them so far. If we truly want to honour their knowledge, compassion and courage, we must invest in them, and in their protection.
Let history remember 2020 not just as a year that nurses came to our aid, but also a time when we came to theirs.
RNAO update: RNAO is asking the government of Ontario to urgently address these and other concerns – most urgently in the Ontario long-term care sector. Please check RNAO's Nursing Home Basic Care Guarantee here. We also urge you to sign our Action Alert and add your voice to 3,500 others here.
---
Connection: Updates, voices and opportunities to engage
RNAO launches task force to tackle anti-Black racism within the nursing profession
RNAO issued on May 3 a statement on anti-Black racism, here, and on June 15 organized a webinar on the topic: Let's Talk About Racism. Our guest speakers were Allison Dalby, Hoodo Ibrahim, Nora Van Dalen, and Shirley Davis & Anthony Morgan (you can watch the webinar here).
Despite the fact that RNAO has had three Black presidents, RNAO recognizes that racism is systemic in our society and endemic in our institutions. That's why, subsequent to the webinar, the association has launched a task force to tackle anti-Black racism within the nursing profession. The task force will be co-chaired by RNAO immediate past-president Angela Cooper Brathwaite and Chantal Sorhaindo, RNAO members and NP at Toronto's St. Michael's Hospital. Members of RNAO have an opportunity to be part of this task force. If you are interested in joining, please apply online by July 8, 2020 at 12 p.m. (ET).
Webinars continue
We have continued to hold weekly webinars on Mondays, 6:45-8:00 pm together with external guests. Attendance is always anywhere between 200 and 350! The COVID-19 Webinars: Together We Can Do It! are free and open to all. The information for the upcoming webinar, as well as the archive for earlier ones, can be found here.
Our upcoming webinar is this coming Monday, July 6, 2020 6:45 - 8:00 p.m. EDT. We will speak about Reuniting families and residents in LTC: What will it take? Learn from a panel as they discuss this critical and timely topic and hear about related updates from RNAO, including ECCO 3.0, Bill 175 and the Nursing Home Basic Care Guarantee. We invite you to bring your questions to the webinar. You can register here.
If you have not had a chance to watch previous webinars, here are the last two:
On July 1, we hosted

Dr. Jennifer Kwan

, a family physician and one of the organizers of

#Masks4Canada

. She spoke about what we need to do to have a successful re-opening of the economy, and the role that COVID-19 surveillance, good data and masking have in achieving that. You can watch it

here

.

On June 22 we discussed the Impacts of COVID-19 on Indigenous Communities with three guest speakers: Ontario Regional Chief RoseAnne Archibald; Mae Katt, Nurse Practitioner with Temagami First Nation; and Marilee A. Nowgesic, CEO of the Canadian Indigenous Nurses Association. You can watch it

here

.
#Togetherwecandoit
Today is day #106 of RNAO's #TogetherWeCanDoIt campaign. RNAO began this campaign on March 19 to cheer up health care workers and others in essential services. We are relaxing the campaign for the summer, but we will continue to post thanks to our "dependable cheerer" HornonTheCob with their beautiful music. Susan McNeil, Irmajean Bajnok and her inspirational messages. We also spotted our colleague Tanya and her kids for a fun cheer. Once again, THANKS to the Stephen's family who each day post cheering tweets watch this one! Feel free to slow down for the summer as we will likely need all the energies again this Fall. To prepare us better, we will be launching next week a #Maskathon! Please help us get the ball rolling and RT #Maskathon wearing your mask as together we encourage everyone – especially kids – to wear a mask! And, when you feel like building community – join at 7:30pm local time and make sure to post tweets using #TogetherWeCanDoIt.
MOH EOC Situational Report
As announced above, we will be posting each day the Daily Situational Reports from Ontario's MOH EOC at RNAO's website. That way, you will be able access the Ministry's guidance without having to wait for my COVID-19 report. Again, the link is here and you can check it every day.
Since this report will come out once weekly, that will provide a more timely access to Ministry guidance.
For a more detailed Ontario epidemiological summary from Public Health Ontario, you can always go here.
Here is a segment from the latest Situation Report #159 for 2 July:
Case count as of 2:00 p.m. July 2, 2020 / Nombre de cas à 14h le 2 juillet 2020

Area / Région

Case count / Nombre de cas

Change from yesterday / Changement par rapport à hier

Deaths / Décès

Change from yesterday / Changement par rapport à hier

Worldwide total /
Total mondial

10 918 836

+229 191

521 372

+4 989

Canada

104 643

+372

8 637

+22

Ontario

35 370

+153

2 680

+04
Actions taken:
The Ontario government

announced

it is providing municipalities and urban Indigenous community partners with an additional $150 million to continue to protect vulnerable people from COVID-19 by improving homeless shelters and creating opportunities for longer-term housing. This investment more than doubles the funding currently flowing to local municipal service managers and urban Indigenous program administrators through the Social Services Relief Fund.

The guidance document for Management of Cases and Contacts of COVID-19 in Ontario that was previously released has now been uploaded to the ministry's website and is available

here

.
Staying in touch
Please continue to keep in touch and share questions, comments and challenges. Send these to me at dgrinspun@rnao.ca and copy my executive assistant, Peta-Gay (PG) Batten <pgbatten@rnao.ca>. Due to the volume of comments and questions, we are responding as fast as we can. RNAO's Board of Directors and our entire staff want you to know: WE ARE HERE FOR YOU!
Thank you deeply colleagues in the front lines; in administrative roles; in all labour, professionals and sector associations, and in governments in Ontario, in Canada and around the world. We are here with you in solidarity. These are stressful and exhausting times; the only silver lining is coming together and working as one people – for the good of all!
Together, we must redouble our efforts to tackle COVID-19 with the best tools at hand: full, accurate and transparent information, calmness, determination and swift actions.
Doris Grinspun, RN,MSN, PhD, LLD(hon), Dr(hc), FAAN, O.ONT
Chief Executive Officer, RNAO
RECENT BLOG ITEMS:
26 June - Nursing Home Basic Care Guarantee – go here.
26 June - Masks for all – the policy imperative in Canada – go here.
18 June - Annual General Meeting – an exhilarating week! – go here.
12 June - Petition on masks for Canada – go here.
12 June - LTC: RNAO releases list of 35 reports and recommendations dating back 20 years – go here.
6 June - Statement – RNAO stands together with our Black sisters and brothers – go here.
3 June - Adapting harm reduction during a pandemic – go here.
29 May - Foot care nurses – go here.
29 May - Update on pandemic pay; pandemic pay in consumption and treatment sites – go here.
28 May - RNAO Calls for Immediate Action in Response to the Canadian Armed Forces' LTC report – go here.
26 May - Update on VIANurse – go here.
26 May - Ending homelessness: Will you join us to build a COVID-19 recovery for all? – go here.
24 May - Technology as a solution: Opportunities and pitfalls of COVID contact-tracing apps – go here.
21 May - Debunking PPE myths with Dr. Jeff Powis: Which masks should health care workers wear during COVID-19? – go here.
20 May - RNAO response to announcement of an independent commission into Ontario's long-term care system – go here.
19 May - With the pandemic curve flattening, VIANurse program will focus its effort on outbreaks – go here.
14 May - Nursing Week update – go here.
14 May - Pandemic puts health system to the test: Nurses have answers for shortfalls – go here.
14 May - Disappointment for not being included in pandemic pay – go here.
13 May - RNAO saddened by the loss RN Brian Beattie to COVID-19 – go here.
13 May - End racism and prejudice – go here.
12 May – Enhancing Community Care for Ontarians (ECCO 3.0) – go here
11 May - Nurses share their successes and challenges during National Nursing Week – go here.
10 May - A story of hope, ingenuity, support and genuine care for an LTC resident – go here.
7 May - Counting the missing deaths: Tracking the toll of the coronavirus outbreak – go here.
5 May - Life on the front lines of the pandemic: Profile of RNAO member NP Daria Gefrerer – go here.
5 May - Addressing differential access to virtual care due to technology inequities – go here.
3 May - Being person-and-family-centred during COVID-19 – go here.
1 May - Migrant agricultural workers and the COVID-19 crisis – go here.
30 April - COVID-19 pandemic in provincial institutions and correctional centres – go here.
28 April - Supporting First Nation Communities during COVID-19 – go here.
27 April - Responses to COVID-19 for persons experiencing homelessness in Toronto: An update – go here.
25 April - Lessons learned through a COVID-19 nursing home outbreak – go here.
25 April - Letter from a retired RN to Premier Ford: The problems with LTC were evident long before COVID – go here.
23 April - Working with seniors in long-term care requires specialized knowledge – go here.
22 April - Shaking the stigma: We need a proactive COVID-19 response for mental health and addiction – go here.
21 April - We Require Expanded and Accessible COVID-19 Data in Ontario – go here.
20 April - Can Loss of Smell and Taste Help Screen for COVID-19? – go here.
18 April - COVID, Trump and the World Health Organization – go here.
16 April - A Home Based Model To Confront COVID-19 – The Case Of The Balearic Islands – go here.
15 April - COVID-19 and the Challenges in Homecare – go here.
14 April - Reprocessing Of N95 – An Update – go here.
14 April - A New COVID-19 Facility For Persons Experiencing Homelessness In Toronto – go here.
13 April - Practical Tips for Safe Use of Masks – go here.
10 April - Ontario's Tragedy in Long Term Care Homes and Retirement Homes – go here.
10 April - RNAO Action – Supporting Long-Term Care – go here.
10 April - Update For Nursing Students – NCLEX Exam – go here.
9 April - Celebrating Passover, Good Friday, Holy Saturday, Easter Sunday and the start of Ramadan during a pandemic – go here.
9 April - Guidance on use of N95 mask – go here.
7 April - Sentinel surveillance and on-site testing in the homeless service sector – go here.
7 April - Reprocessing of n95 – safe? – go here.
5 April - We must change the way we do testing and case definition – go here.
5 April - Ringing the alarm bells on critical care beds – go here.
4 April - COVID-19, stay at home and domestic violence – go here.
We have posted earlier ones in my blog here. Please go and take a look.
RNAO'S policy recommendations for addressing the COVID-19 crisis: We presented 17 recommendations for government, last revised on April 2. Read them here.
Information Resources
Public Health Ontario maintains an excellent resource site on materials on COVID-19. This is an essential resource for Ontario health providers.
Ontario's health provider website is updated regularly with useful resources here.
Ontario's public website on the COVID-19 is there to inform the general public – encourage your family and friends to access this public website. The WHO has provided an excellent link for you to share with members of the public here.
Please promote the use of Ontario's COVID-19 self-assessment tool: It also has a guide where to seek care, if necessary. Its use will provide the province with real-time data on the number and geography of users who are told to seek care, self-isolate or to monitor for symptoms. Data will inform Ontario's ongoing response to keep individuals and families safe.
Health Canada's website provides the best information capturing all of Canada. It contains an outbreak update, Canada's response to the virus, travel advice, symptoms and treatment, and resources for health professionals.
The World Health Organization plays a central role in addressing the COVID-19 pandemic. See here and here.
You can find up-to-date global numbers in Coronavirus COVID-19 Global Cases by Johns Hopkins CSSE.