Crystal Newman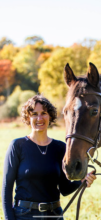 I am a visionary and goal-oriented professional with 20+ years of proven experience in clinical administration and operations management, seeking a new, challenging role as a member of the Board of Directors with the Registered Nursing Association of Ontario. I find myself very strongly drawn to the unique working philosophy that fuels RNAO, and believe I am well aligned to excel in the available opportunity.
Throughout the progression of my career, I have developed a highly refined skillset centred in managing and supervising executive operations of healthcare facilities with success, founded by extensive experience in administrative clinical functions to support institutional directives and targets.
Additionally, I have established expertise in various requirements for this position, whether they be demonstrated fiscal oversight, high-impact leadership, and the implementation of best practices in all decision making and operations.
I integrate expert knowledge of standard patient care practices into operational strategies, developing and implementing processes and internal controls to drive high levels of service quality. Moreover, I facilitate active collaboration with medical team, senior management, and community partners, providing professional oversight toward achieving organizational success.