Hilda Swirsky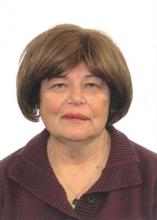 Skillfully resourceful and influential in strategically communicating priority issues: I ask for your vote. As your Region 6 Representative on RNAO's Board of Directors, I will continue to inspire, mentor, recruit, retain and engage nurses and nursing students.   
Versatile, I collaboratively partnered with amazing RNAO staff in building our outstanding Region 6 teams.  Jointly, we promptly planned participation in the President and CEO's Fall Tour including a site visit and a successful dinner at the Old Mill with Doris Grinspun as our Guest Speaker.
Policy staff and I coached and directed political involvement of novice Region 6 members, especially during the Queen's Park on the Road activity.  
My actions and philosophy of care concur with Florence Nightingale's illuminating environmental advocacy. Therefore, I passionately advance and champion the vital importance of having healing physical designs that promote health by putting our patients first: clean air, clean drinking water, natural lighting and decreased toxic substances.
Committed to life-long professional growth, I obtained a BScN from Ryerson Polytech University and a Master of Education from the University of Toronto. BPG Guidelines, RNAO Webinars and Conferences ensure that I can encourage evidence-based clinical practices to colleagues for patients.   
Highlights of progressive RNAO roles include:
Project Manager in Membership: in-depth understanding of recruitment & retention
BPG Reviewer & Champion: fosters healthy workplaces
In the only Canadian Magnet designated hospital: the Sinai Health System; as a point-of-care nurse and role-model: I Put Patients First on the Antenatal/Postpartum Unit.